Introduction
Edit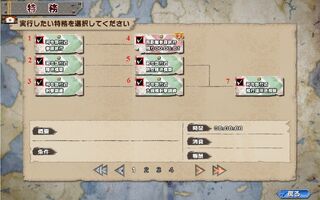 Special duties are missions that you send your milihimes on to secure resources for your base. They provide a safe, steady income of virtually all common in-game resources and some surprises too. The Special Duty icon is unlocked upon completing a mission with the tasks of beating 1-4, and retiring two milihime.
As long as you match the required conditions your special duties will succeed.
The fuel, ammo, ration, and gold gained from secret missions can accumulate beyond the cap. This makes expeditions the best way to stockpile resources.
Special duty also provide experience, making them useful for passively leveling weaker milihime.
Some special duties are also quest requirements.
Sending units with a high morale results in bonuses to the reward.
Special duty themselves need to be unlocked first, usually by completing other special duties. Once they have been unlocked, they can be repeated indefinitely. 
| | |
| --- | --- |
| | Undiscovered Special Duty |
| | Uncompleted Special Duty |
| | Completed Special Duty |
| | Good Bonus Achieved Medal |
| | Excellent Bonus Achieved Medal |
A
Near HQ - General Staff Visit
Summary
The General Staff is visiting in order to check on the placement of troops, and to see if the research is in line with actual combat
Requirements
x 2
Time
00:10:00
Supply Use
Low
Low
Base Rewards
300
---
---
---
XP
100
Bonus Reward
+50% Bonus, Directive x 1
B
Near HQ - General Staff Remote Visit
Summary
The General Staff is visiting a remote location in order to check on the placement of troops, and to see if the research is in line with actual combat
Requirements
x 3
Time
00:15:00
Supply Use
Low
Low
Base Rewards
200
200
---
---
XP
125
Bonus Reward
+75% Bonus, Directive x 1, Building Material x 200
C
Near HQ - Building a Fortification
Summary
Improve the defensive strength of the area surrounding HQ by building a fortification
Requirements
x 3
Time
00:25:00
Supply Use
Med
Med
Base Rewards
---
---
250
250
XP
150
Bonus Reward
+25% Bonus, Directive x 1
D
Near HQ - Building Anti-Aircraft Defenses
Summary
Improve the defensive strength of the area surrounding HQ by building Anti-Aircraft defenses.
Requirements
x 3
Time
00:40:00
Supply Use
Med
Med
Base Rewards
---
150
200
150
XP
155
Bonus Reward
+75% Bonus, Directive x 1, Builing Material x 200
E
Near HQ - Target Practice
Summary
Carrying out live artillery training exercises.
Requirements

a

x 2
Optional Inclusion

c

d

e

f

g

h

Time
00:30:00
Supply Use
Med
Med
Base Rewards
---
500
---
---
XP
200
Bonus Reward
+50% Bonus, Directive x 1
F
Near HQ - Large-scale Target Practice
Summary
See the results of the regular training by holding a shooting competition.
Requirements

a

x 3
Optional Inclusion

c

d

e

f

g

h

Time
01:00:00
Supply Use
Med
High
Base Rewards
---
600
---
---
XP
210
Bonus Reward
+75% Bonus, Directive x 1, Building Material x 200
G
Near HQ - Airfield Site Visit
Summary
Patrol the area, and look for a suitable location for an aviation facility for our Aircraft based Milihime.
Requirements
5 x

a

b

Time
05:00:00
Supply Use
High
High
Base Rewards
400
400
400
400
XP
500
Bonus Reward
+100% Bonus, Alarm Clock x 1, Building Supplies x 200

A
Western Front - Covert Reconnaissance
Summary
Collect information on the enemy without being noticed.
Requirements

a

b

x 3
Time
01:00:00
Supply Use
Med
Med
Base Rewards
---
300
300
---
XP
300
Bonus Reward
+50% Bonus, Directive x 3
B
Western Front - Reconnaissance in Force
Summary
In order to discover the position of the enemy, direct suppressive fire and quickly withdraw.
Requirements

b

x 1

c

x 2

d

x 1
Time
01:15:00
Supply Use
Med
Med
Base Rewards
---
350
350
100
XP
350
Bonus Reward
+75% Bonus, Directive x 1, Building Material x 200
C
Western Front - Supply Transport Escort Duty
Summary
Escort a laden supply convoy to headquarters.
Requirements

c

x 3

d

x 2
Time
01:30:00
Supply Use
Med
Med
Base Rewards
---
---
500
---
XP
300
Bonus Reward
+50% Bonus, Directive x 3
D
Western Front - Secure the River Crossing
Summary
In order to approach the enemy, secure the river ford that allows us to cross.
Requirements

a

b

x 5
Time
02:00:00
Supply Use
Med
Med
Base Rewards
400
400
---
---
XP
300
Bonus Reward
+50% Bonus, Directive x 1, Building Material x 200
E
Western Front - Supply Depot Construction
Summary
Build a permanent position to store supplies located midway on the transportation route.
Requirements

a

x 2

b

x 1

d

x 2
Time
01:30:00
Supply Use
Med
Med
Base Rewards
300
500
---
---
XP
350
Bonus Reward
+75% Bonus, Directive x 1, Building Material x 200
F
Western Front - Aerial Supply Operation
Summary
Airdrop supplies to the besieged city.
Requirements

n

o

X 1
Time
01:40:00
Supply Use
High
Med
Base Rewards
---
300
300
200
XP
350
Bonus Reward
+100% Bonus, Alarm Clock x 1, 7.62mm AN/M2 x 1 (Aircraft Weapon)
G
Western Front - Airfield Material Procurement
Summary
Procure material and supplies in order to build and maintain an airfield for use with our aerial Milihime.
Requirements

a

b

X 5
Time
05:00:00
Supply Use
Med
Med
Base Rewards
400
400
400
400
XP
600
Bonus Reward
+100% Bonus, Canned Chocolate x 1, Building Material x 200
A
Eastern Front - Snow March Training
Summary
Organise an Infantry focused unit, and conduct training in the snow.
Requirements

a

b

x 2
Time
02:30:00
Supply Use
Med
Med
Base Rewards
---
---
850
---
XP
400
Bonus Reward
+50% Bonus, Directive x 1, Building Material x 200
B
Eastern Front - Fund Procurement Mission
Summary
Transport funds from the strategic base to HQ
Requirements
x 4
Time
03:00:00
Supply Use
Med
Med
Base Rewards
---
---
---
900
XP
400
Bonus Reward
+50% Bonus, Canned Chocolate x 1, Building Materials x 2
C
Eastern Front - Large Scale Operation Procurement
Summary
Before the large scale operation, collect supplies for the decisive battle.
Requirements
x 5
Time
05:00:00
Supply Use
Med
Med
Base Rewards
360
360
240
240
XP
400
Bonus Reward
+75% Bonus, Canned Chocolate x 1, War Wound Medal x 1
D
Eastern Front - Pipeline Defense
Summary
Prevent attacks on the pipeline that conveys fuel from the oil field.
Requirements

a

b

x 2

c

d

e

x 3
Time
04:00:00
Supply Use
Med
Med
Base Rewards
1200
100
---
---
XP
450
Bonus Reward
+50% Bonus, Directives x 1, Building Material x 200
E
Eastern Front - Airfield Construction Duty
Summary
Continue the work of running and improving the airfield for our aerial Milihime.
Requirements

a

b

x 5
Time
05:00:00
Supply Use
Med
Med
Base Rewards
400
400
400
400
XP
700
Bonus Reward
+100% Bonus, War Wound Medal x 1, Building Material x 400

A
Aviation Duty - Aerial Combat Training
Summary
Organize your air unit and conduct aerial combat training.
Requirements

n

o

x 2
Time
02:00:00
Supply Use
High
High
Base Rewards
700
---
---
150
XP
800
Bonus Reward
+100% Bonus, War Wound Medal x 1, Building Material x 200
B
Aviation Duty - Close Air Support
Summary
Organize your aerial unit and support ground force operations.
Requirements

n

o

x 3
Time
04:00:00
Supply Use
Med
Med
Base Rewards
600
---
400
100
XP
950
Bonus Reward
+200% Bonus, Building Materials x 200, Jerry Can Rack x 1 (Fuel Drum)
C
Aviation Duty - Ground Attack Training
Summary
Organize your air unit and conduct ground attack training.
Requirements

n

o

x 2
Time
02:00:00
Supply Use
High
High
Base Rewards
---
700
---
150
XP
800
Bonus Reward
+100% Bonus, War Wound Medal x 1, Building Material x 400
D
Aviation Duty - Battlefield Air Interdiction
Summary
Organize your air unit and disrupt the advancement of enemy ground units.
Requirements

n

o

x 3
Time
04:00:00
Supply Use
High
High
Base Rewards
600
400
100
XP
950
Bonus Reward
+200% Bonus, Building Material x 400, Spare Ammunition Case x 1 (2 star Ammo Box)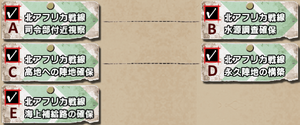 A
North African Front - Near HQ
Summary
Explore the desert surrounding the North African HQ in order to get a better grasp of the terrain.
Requirements

a

b

x 3
Time
00:20:00
Supply Use
Low
Low
Base Rewards
300
300
---
---
XP
400
Bonus Reward
+50% Bonus, Directive x 1, Building Material x 200
B
North African Front - Secure a Water Supply
Summary
In the North African Desert, a water source is a lifeline. Secure the oasis and pacify the surrounding population.
Requirements

a

x 3

c

x 2
Time
00:50:00
Supply Use
Med
Low
Base Rewards
---
---
400
---
XP
450
Bonus Reward
x100% Bonus, Building Material x 400, Canned Chocolate x 1
C
North African Front - Secure Position to the Highlands
Summary
To ensure safety of the advance path, and to build a position in the highlands of the desert, Strive to strengthen its defense capabilities.
Requirements

k

x 2
Time
00:45:00
Supply Use
Low
Low
Base Rewards
250
250
---
---
XP
420
Bonus Reward
+50% Bonus, 7.92mm MG42, 20mm KwK 30 L/55
D
North African Front - Construction of a permanent position
Summary
To build a position with a fort and pillboxes along the main road, and Strive to strengthen the defense forces.
Requirements
x 5
Time
1:00:00
Supply Use
Low
Med
Base Rewards
---
---
320
320
XP
500
Bonus Reward
+100% Bonus, 7.92mm MG42 x 1, Fu8 Radio x 1
E
North African Front - Secure maritime supply route
Summary
In order to ensure the safety of the Mediterranean route, case support to secure naval supremacy.
Requirements

n

o

x 3
Time
2:00:00
Supply Use
Med
Med
Base Rewards
200
200
---
500
XP
700
Bonus Reward
+75% Bonus, 12.7mm M2 x 1, Bofors 40mm L/60 x 1
A
Construction of the northern front supply base
Summary
Requirements

a

x 3
Time
01:20:00
Supply Use
Base Rewards
400
---
---
100
XP
720
Bonus Reward
B
Northern Front supply base security
Summary
Requirements

a

x 3

k

x2
Time
03:20:00
Supply Use
Base Rewards
----
600
400
300
XP
1800
Bonus Reward
C
Northern front air support training
Summary
Requirements

n

o

x3
Time
01:40:00
Supply Use
Base Rewards
350
350
XP
900
Bonus Reward
D
Northern Front long-range air support
Summary
Requirements

n

o

x3
Time
11:40:00
Supply Use
Base Rewards
700
700
700
700
XP
3500
Bonus Reward
x1 12.7mm M2, x1 Alarm Clock
E
Strengthening the northern front supply base security
Summary
Requirements

k

x2
Time
05:00:00
Supply Use
Base Rewards
700
960
----
700
XP
2100
Bonus Reward
7.92mm MG42 × 1